I needed to create some wordsearches recently. So I turned to Excel.
I created two identically-sized grids: a blank one in which I could type the words I wanted to appear in their rightful positions; and another one next to it, which would surround the keywords with randomised letters.
And here's the result. I've shaded the keywords on the right for visual effect. The shading isn't there in the finished product, because that would make the wordsearch a bit rubbish.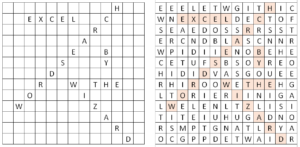 The formula of choice is as follows:
=IF(ISBLANK(B4),VLOOKUP(ROUNDDOWN((RAND()*1012)+1,0),Lookups!$F:$G,2,0),B4)
The range in the Lookups sheet lists the letters of the alphabet a variable number of times depending on their propensity to appear in the English language. (E.g. A appears roughly 82 times in 1012, or 8.1% of the time.
Here's the spreadsheet should you want to use it.